Hierbij open ik de topic voor Nederlands(talige) gebruikers.
Ik ben er ook bij en zal proberen mijn bijdragen ook hier te plaatsen en te reageren.
Wellicht is het handiger om de structuur wat te laten aanbrengen door de intiatiefnemers.
Nu is het nog een beetje Ratjetoe…
Ik zou dit forum tijdelijk als "testplatform" gebruiken.
Daarna alles wissen, juiste structuur opzetten, en starten.
(Maar wie ben ik, om hierover te oordelen, ik laat de initiatiefnemers de kar trekken, ik sluit aan.)
Toch wel lastig als je normaal een "kartrekker" bent.
Mooi om te zien dat we dit nieuwe platform gaan gebruiken, werkt wat mij betreft een stuk beter dan de oude forum software.
Duurt nog even voordat het allemaal handig is ingericht inderdaad, maar dat komt wel. In ieder geval zijn er veel meer opties qua plugins enzo voor dit platform, dus er zullen vast snel handige dingen bij komen.
Zal dit nieuwe forum ook eens in de gaten gaan houden!
Tip:
Probeer gewoon is in dit forum te testen om berichten, links, plaatjes, filmpjes te linken.
Ik merk op dat de rechterzijde het visuele eindresultaat te zien is, ten tijde dat je het bericht invoert.
Zeg maar een live priview aan de rechterzijde.
FYI, er is nu een proces om nieuwe categorieën aan te vragen in deze forums:
Request new categories for this forum by creating a new topic in this category.
@nukeador Do you know if the "new" forum is currently a test environment?
will it be reset at a later date?
This site is fully operational, the technical test ended before these conversation were setup, content won't be deleted.
Has a descision been made than on how to structure the new forum? Will the communities section for example get sub groups for all countries or is this done via tags?
Ah missed that one, sorry. Thanks for the update
Ik zie alleen een mogelijkheid om te antwoorden op deze bestaande thread, sorry, ik ben nieuw op dit platform.
Ik kreeg een mail via talk-nl-owner van iemand die in Rotterdam allerlei volgens haar verkeerde straatnamen aantrof. Zie bijgaand screenshot, email bij mij bekend.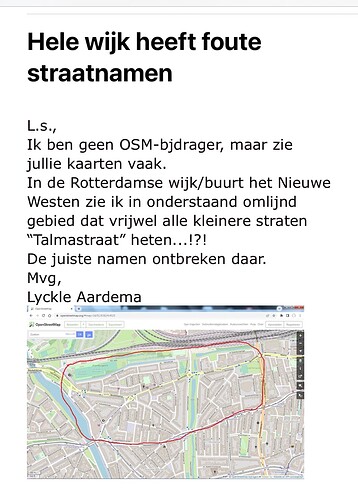 Overigens als iemand talk-nl-owner wil overnemen (volgens mij is dat nog steeds Henk Hoff en ik…) – gaarne

Martijn
Ik heb de mapper die daar bezig is geweest een berichtje gestuurd.
Zowel via PM als op de changeset:
Tof, bedankt @marczoutendijk
Ik heb een berichtje teruggestuurd aan deze persoon. Zij/hij is jullie bijzonder dankbaar.
Ik haak hier ook even aan!
Hello,
In the last forum governance meeting a decision was taken to move ahead and allow communities to request new categories now, since we don't have yet a timeline for the migration to finish.
Cheers.
Hoi Commooortje,
zie ook mijn sticky in het 'oude' forum. Enig idee over sub-fora, modereren/administreren, BAG forum…?