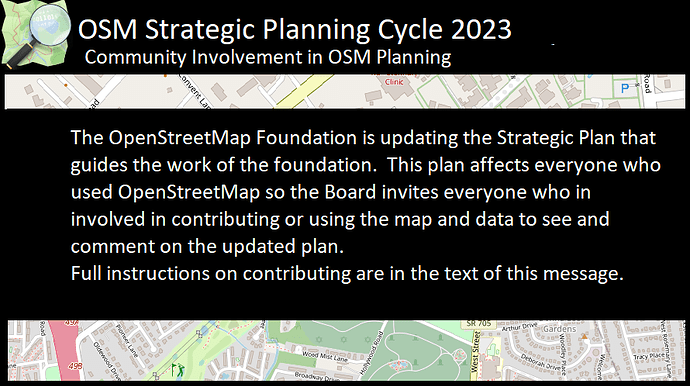 2023 Strategic Planning Cycle – Community Participation
The Board of the OpenStreetMap Foundation is revising its Strategic Plan, and invites all OSMF members and the OSM community to participate in this process.
The plan is quite large, so we want to discuss it with you in four phases over the next two months. In each phase we focus on a different aspect of strategic development for the OSMF.
The first phase will be "Cluster B: Community Development for OSM". We are looking for your comments for only this section for the next two weeks.
If you click through the link to "Cluster B: Community Development for OSM" you will find all the strategems in that cluster listed there.
We would especially like your feedback on just four questions:
What is missing from the plan? Or put differently, what should we add to the plan?

Are there any inconsistencies in the plan? Does the plan seem to be well aligned with the OSMF Mission and the direction of the OSM movement? Where are any problems?

Which three strategems are most urgent? Which three must we do really quickly?

Which three strategems are very important? Which strategems are critical for OpenStreetMap to succeed and grow?
You may of course comment on anything else as well.
If there is debate on this topic on any of the hundreds of social media sites that host OSM-related discussions, you could help us greatly if a member of that site or channel please prepare a summary of the comments and post it (in English) to the team. We cannot follow all of the discussions on all social media ourselves but we do care to hear your voices.
We will mainly follow feedback in these two places:
You can send private comments to be read only by the strategy team at strategy@osmfoundation.org or you can write individually to Board members.
Due to our small team, we'd like comments to be in English. Machine translation from your language is fine. We have used https://translate.google.com and DeepL Translate: The world's most accurate translator successfully but there are many others that work well.
Many Thanks
Craig Allan, Sarah Hoffmann, Allan Mustard