You might still remember the service on my machine to detect dangling highway ends and highlight those which have aerial imagery available to continue them.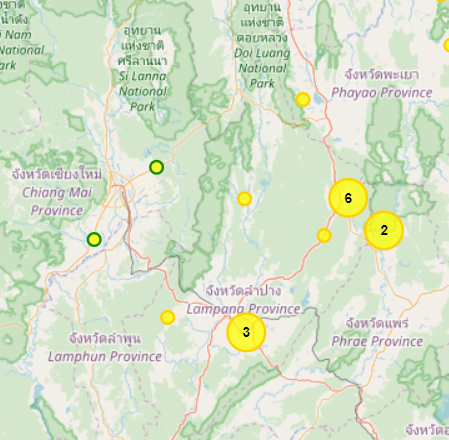 http://compare.osm-tools.org/loose.html
This service used manually maintained polygons of the Bing coverage.
This is no longer state of the art. While it worked well in the past and also provided the additional benefit of giving ideas on where to derive more features from the imagery, it does not scale.
As of today we have not only Bing imagery, but also imagery from Mapbox Satellite, Esri, and two layers from Digital Globe.
I have not yet found areas without coverage. So the times for imagery polygons are gone.
Still leaves us with a lot of major highways suddenly ending. In the areas I focus on with the osm-tools.org services there are nearly 10.000 of those dangling ends.
If concentrating on Thailand, we speak about 450 loose ends still waiting to be connected.
To make it easier to concentrate on the quick to solve parts, I use computing intelligence to detect which of the imagery providers has high-resolution images available.
This is then used to classify the imagery into grades. The dots with the green circle should have the highest quality imagery available, the ones with the yellow border still good quality alternatives. But even the ones without border should be usable to continue highways.
For all dangling ends there is at least one imagery provider available with zoom 16 imagery. Many of them offer you to choose from multiple providers. This allows to deal with cloud coverage and also makes it possible to select the imagery with the smallest offset.
Speaking about offset: This is something I have to strongly highlight. The imagery differs greatly in the positional accuracy. This also varies by region. So imagery from one provider could be horrible aligned in one area, but the best in another.
Before using imagery, check the positioning accuracy by loading GPS tracks and comparing with the imagery. If the area in question has no tracks, zoom out and check nearby areas. Be careful for visible boundaries of the imagery as this can indicate different capture dates which can come with different offsets.
I made it a habit to always load GPS track and recommend to do the same.
As a test-drive I will only display the data for Thailand for a few days before enabling the full coverage of South-East Asia.
I hope we can get those remaining dangling ends resolved quickly. Just doing a hand full every day will get it resolved in short time.
More details of the tool can be found here:
http://www.osm-tools.org/loose.html
Stephan
PS: is there any use of the outdated Bing boundary polygons? I suggest to remove them if no use exists for them any more.