Hello Thai community,
I am Supannachat from TomTom, hope you are doing well.
I collected some more leads related to roads and construction that I would like to share with the community.
In many provinces, highways have been upgraded to dual carriageways. Below are the locations in Northern Thailand:
Route 214 in Roi Et province between kilometer 73+275 - 79+200 Note: 3592122 | OpenStreetMap
Route 222 in Bueng Kan province between kilometer 97+500 to 113+400 Note: 3592094 | OpenStreetMap
Rural Road อด.1076 in Udon Thani province starting from 17.33993,102.81366 to 17.29689,102.79280 Note: 3592120 | OpenStreetMap
Route 210 in Nong Bua Lam Phu province, the construction status for bridges at 17.32683,102.03130 can be removed since the project finished, see Note: 3592165 | OpenStreetMap
More were found in Chonburi, the upgrade of route 3246 has also been completed at 13.4276917,101.2013962 to 13.43790,101.19125 Note: 3592112 | OpenStreetMap
And in Saraburi, route 3222 has been upgraded starting from 14.27671,101.06635 to 14.37150,101.08967 Note: 3592153 | OpenStreetMap
We can update the road geometry using RoadRunner and imagery as references.
We also found a bridge under construction in the Nakhon Pathom province. The 400-meter bridge will cross the Nakhon Chaisi River and connects Ngio Rai to the Sam Pathuan sub-districts. The department of Rural Road expects to finish it mid 2024 Note: 3592158 | OpenStreetMap
Picture from มาแล้ว29%สะพานคอนก... - Dailynews - ข่าวนวัตกรรมขนส่งเดลินิวส์ | Facebook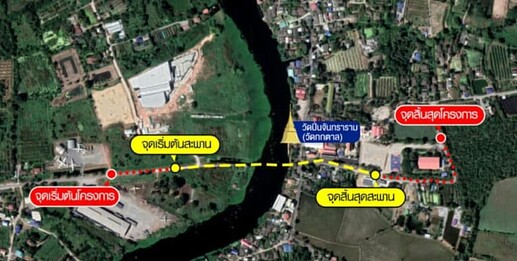 These are some more leads you can take a look at:
These notes are open for all. Please feel free to implement them and just let me know if you have any comment or feedbacks.
Sincerely yours,
สวัสดีค่ะ Thai Community,
สุพรรณ์ฉัตรจาก TomTom นะคะ
วันนี้จะมาแชร์ Leads เกี่ยวกับถนนใหม่และสะพานที่กำลังก่อสร้างที่รวบรวมได้ในช่วงสามสี่เดือนที่ผ่านมานะคะ
ในช่วงต้นปีที่ผ่านมากรมทางหลวง ได้ขยายถนนในหลายจังหวัดทางภาคอีสาน รวมไปถึงจังหวัดสำคัญอื่นๆ แล้วเสร็จหลายเส้นทาง ทาง TomTom ได้รวบรวมข่าวแล้วนำมา cross check กับ OSM database พบตำแหน่งที่ต้องทำ geometry เป็น DC ตามนี้ค่ะ
ทางหลวงสาย 214 ที่ กม 73+275 ถึง 79+200 ในจังหวัดร้อยเอ็ด Note: 3592122 | OpenStreetMap
ทางหลวงสาย 222 ที่ กม 97+500 ถึง 113+400 ในจังหวัดบังกาฬ Note: 3592094 | OpenStreetMap
ทางหลวงชนบท อด.1076 จังหวัดอุดรธานี DC เริ่มจาก 17.33993,102.81366 ถึง 17.29689,102.79280, Note: 3592120 | OpenStreetMap
ทางหลวง 210 ในจังหวัดหนองบัวลำภูก่อสร้างแล้วเสร็จ สะพานที่ตำแหน่ง 17.32683,102.03130 สามารถเอา construction status ออกได้ค่ะ, Note: 3592165 | OpenStreetMap
งานขยายถนนยังพบเพิ่มเติมในจังหวัดชลบุรี ทางหลวง 3246 โดย DC เริ่มจาก 13.4276917,101.2013962 ถึง 13.43790,101.19125, Note: 3592112 | OpenStreetMap
และจังหวัดสระบุรี ทางหลวง 3222 DC เริ่มจาก 14.27671,101.06635 ถึง 14.37150,101.08967, Note: 3592153 | OpenStreetMap
ในหลายๆตำแหน่งที่ส่งไป สามารถดู RoadRunner และ Imagery เป็น Reference ได้ค่ะ
ในส่วนอื่นๆ มีสะพานข้ามแม่น้ำนครชัยศรี (แม่น้ำท่าจีน) ที่กำลังก่อสร้าง โดยสะพานจะช่วยเชื่อมและร่นระยะทางระหว่างตำบลงิ้วรายและตำบลสัมปทวน ในอำเภอนครชัยศรี จังหวัดนครปฐม ตามแผนงานของกรมทางหลวงชนบท สะพานนี้จะสร้างเสร็จกลางปีหน้า 2024 ค่ะ Note: 3592158 | OpenStreetMap
Leads เพิ่มเติมที่ส่งไปใน Notes ในรอบนี้ค่ะ
หากใครสนใจ edit leads พวกนี้ เรียนเชิญเลยนะคะ หากมีคำถามและคำแนะนำใดๆสามารถติดต่อกลับได้เลยค่ะ
ด้วยความเคารพ
Supannachat