09.01.2017
En este punto, me gustaría transmitir un agradecimiento de corazón de la madre de Thomas a todos los que ayudaron en la Ilustración y sobreexpresa sus condolencias. Su tumba está en el cementerio en Brand-Erbisdorf (cerca de Dresde / Alemania), en el funeral lo 12/21/2016. Por el momento, el periódico local está mostrando de este modo, gracias. Aquí está una foto a gran puede hacer clic en la tumba de Thomas: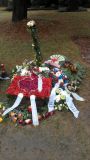 https://gedenken.freiepresse.de/Traueranzeige/Thomas-Bellmann
---
At this point, I would like to convey a heartfelt thank you from Thomas' mother to all who helped in the enlightenment and expressed their condolences. His grave is in the cemetery in Brand-Erbisdorf (near Dresden/Germany), the funeral was on 21.12.2016. In the meantime, the local newspaper is also showing thanks. Here is a large-clickable photo of Thomas' Grab: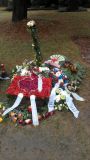 29.11.
If someone has seen malenki between 17.11. and the 27.11. or had contact with him, or knows anything, please report via PN!
---
29.11.
Si alguien Malenki entre 17:11. y 27.11. ha visto o tenido contacto con él, o si no sabe algo, por favor, ABSOLUTAMENTE informe a través de PN!
---
Update 28.11 .:
Unfortunately, there is sad news. Malenki was found lifeless in Spain yesterday. I should like to thank all those from his mother who have engaged in the search. You certainly understand that I can no longer write (now and here). Silent greetings…
---
Actualización 28.11:.
Desafortunadamente, no es una triste noticia. Malenki fue encontrado ayer sin vida en España. De su madre agradecer a todos los que han participado en la búsqueda. Su seguro de que entiende que no puedo escribir en él (aquí y ahora). Saludos silenciosas …
---
Hello everybody,
the osm mapper malenki http://wiki.openstreetmap.org/wiki/User:Malenki is a well-known user in Germany.
He has been traveling through Europe for a few weeks, and was most likely in Spain. Unfortunately, there has been no more sign of him for about a week.
On 17.11. He was in Bilbao at a Paul Simon concert. Then he wrote again about 9:45 pm. And on November 18, when he ran his average, he may have been about 20-30 km south to the west of Bilbao when he wrote his last message to his mother that evening. In the manner of their composition, she concluded that this was the beginning of an evening entertainment. The following messages to him remained unread and unresponsive. The latest OSM edits by malenki are from 19.11.2016 06:35 from the port of Portugalete northwest of Bilbao. He has, among other things, this accommodation included in his edits and possibly he also stayed there: http://www.openstreetmap.org/node/4509979189.
Update 28.11.: Today we know, that malenki slept from 18.11. to 19.11. in the hostel in Portugalete. Unfortunately, his smartphone is turned off since 19.11. - so we are not able to locate him. The contact to the local police with search order has already been established.
His mother has already set up a missing report. On his website malenki.ch he regularly posted photos of his tour and himself in the gallery and posted in a SMS group relatively regularly where he is.
Here is a picture of him from his tour: https://malenki.ch/c/index.php/apps/gallery/s/VBeUVOsXDbqiCfP#DSC00004_me_on_a_large_scale.JPG.jpeg
Now we hope and wish that maybe someone here has had contact with him in the last week or heard something. If someone has a tip - please absolutely report!
Thank you!!
→ Link to the Germany-Thread - https://forum.openstreetmap.org/viewtopic.php?id=56538
Edit: Update of the Details of bis possible stay.
…
Hola todos,
El osm mapper malenki http://wiki.openstreetmap.org/wiki/User:Malenki es un usuario bien conocido en Alemania.
Ha estado viajando por Europa durante unas pocas semanas, y era más probable en España.
El 17.11. Estaba en Bilbao en un concierto de Paul Simon. Luego volvió a escribir sobre las 9:45 pm. Y el 18 de noviembre, cuando corrió su promedio, puede haber estado a unos 20-30 kilómetros al sur al oeste de Bilbao cuando escribió su último mensaje a su madre esa noche. En la manera de su composición, ella concluyó que esto era el principio de un entretenimiento de la tarde. Los siguientes mensajes le quedaron sin leer y sin respuesta. Las últimas ediciones de OSM por malenki son desde 19.11.2016 06:35 desde el puerto de Portugalete al noroeste de Bilbao. Él tiene, entre otras cosas, este alojamiento incluido en sus ediciones y, posiblemente, también se quedó allí: http://www.openstreetmap.org/node/4509979189. Lamentablemente, no ha habido más señales de él durante una semana. Su madre ya ha establecido un informe faltante. En su página web malenki.ch publicó regularmente fotos de su gira y él mismo en la galería y publicó en un grupo de SMS con relativa regularidad donde está.
Actualizamos 18.11:. Hoy sabemos, hicimos Malenki dormía desde 18.11. a 19:11. en el albergue en Portugalete. Por desgracia, su dispositivo está apagado desde 19:11. - Así que no somos capaces de localizarlo. El contacto con la policía local con el orden de búsqueda ya ha sido establecida.
Aquí está una foto de él de su recorrido: https://malenki.ch/c/index.php/apps/gallery/s/VBeUVOsXDbqiCfP#DSC00004_me_on_a_large_scale.JPG.jpeg
Ahora esperamos y deseamos que tal vez alguien aquí ha tenido contacto con él en la última semana o escuchado algo. Si alguien tiene un consejo - por favor informe!
¡¡Gracias!!
→ Enlace al hilo de Alemania - https://forum.openstreetmap.org/viewtopic.php?id=56538