kreeg net een message recht uit het hart van ene Dillen_GJ


Hartelijk dank voor jullie gulle giften !
Er liggen een heleboel projecten (zie alleen al de future notes Haarlem, lijkt wel een 1 grote klodder rood in die stad

) & projectjes klaar in en in de nabijheid van Haarlem dus kunnen werken met JOSM wordt een verademing !
Graag ook alvast wat tips m.b.t. goede plug-ins voor JOSM.
Lets do this !
Nogmaals hartelijk dank allemaal !
De hele collectie appendixes en er is nog veel en veel meer te ontdekking
Plugins:
KartaView (413)
Mapillary (2.2.0)
OpeningHoursEditor (36126)
Relation.Validation.Plugin (1.0.1)
RoadSigns (36126)
apache-commons (36176)
easypresets (1623509627)
editgpx (36126)
ejml (36176)
graphview (36178)
gridify (1606242219)
jaxb (36118)
jogl (1.2.3)
kendzi3d-resources (0.0.2)
log4j (36176)
lwjgl (36176)
lwjgl-windows (36176)
notesolver (0.5.0)
pmtiles (36125)
pt_assistant (630)
reltoolbox (36178)
reverter (36126)
rex (53)
routing (36178)
tageditor (36126)
todo (133)
turnlanes (36126)
turnlanes-tagging (0.0.5)
turnrestrictions (36178)
utilsplugin2 (36178)
Tagging presets:
Map paint styles:
Even wel het harnas aan want het wordt een VTO learning curve.
Ik zie het al, ik heb de laptop nog niet eens en weet nu al dat ik intern geheugen moet gaan bij prikken !

VTO ? Vlinke

Takke Opgave ?
Vertical Take Off
Ik heb 16 gig in de desktop maar JOSM gebruikt niet meer als 4 gig na een halve dag mappen, meer kan met wat config werk.
Het eerste wat ik ZEKER nodig heb is een luchtfoto achtergrond die steeds ECHT actueel is en blijft…
Op mijn achtergrond kaart in ID heeft Haarlem nog 11 stadspoorten en een galgenveld en Halfweg bestaat uit 1 herberg

Er is voor mij maar 1 plugin echt onmisbaar.
Hij staat alfabetisch als laatste in de lijst van Rob: utilsplugin2
Bewaar zijn overzicht voor als je wat ervaring hebt en voeg er toe als je er zelf aan toe bent.
doceren is doseren

ze zijn nooit echt actueel. Zie je een auto, vrachtwagen of setje fietsers op de foto en dan zijn ze alweer weg als jij daar aangekomen bent. Naast die ene plugin is ook verplicht het bestandje van Allroads waarin 'de beste lagen' zitten. Daarmee start je JOSM op,
Dit draadje is natuurlijk niet compleet zonder deze: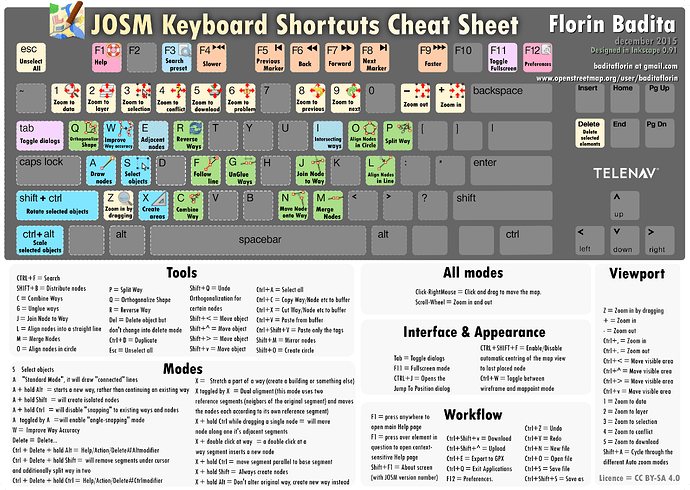 Al kan ik me niet voorstellen dat niet al ergens getipt was, als je met JOSM aan de slag gaat.

Gefeliciteerd met je upgrade.

Altijd makkelijk alles in 1 draadje terug te kunnen vinden !
Er is een active shortcut wiki for JOSM, staat ook in F1 and dan het shortcut item, niet zo makkelijk als bij ID met Shift+?