Dear community of the neighbouring country,
In my home country of Austria, I prefer to map cycling and hiking routes. In Italy, I only map occasionally when I notice major discrepancies between the map and reality while on holiday.
One of my last changes has led to a discussion with a local mapper and I would like to know your opinion.
Please excuse the English language, unfortunately I don't speak Italian. Just do it like the Swiss community, everyone answers in their favourite language.
Question
Does it make sense to divide large cycle routes (> 1000) into smaller routes?
Long routes are divided into linear stages, packed into relations and summarised again with a superroute. Alternatives, excursions and connections are separated from the main route in another relation.
In my view, there are several arguments in favour of this:
smaller relations are easier to maintain
linear relations are easier to check for gaps
they motivate more mappers to collaborate
the probability of upload conflicts is lower
they reduce the load on the database
Of course there are also disadvantages:
there are more relations
the interaction of relations requires more attention
the support of superroutes is still limited
In my opinion, the advantages outweigh the disadvantages.
What is your opinion?
Example I1
I1 before restructuring
1 relation, 1204 members, version #689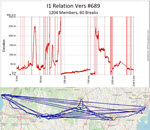 (zoom)
The elevation profile visualises sorting errors and gaps.
I1 current (Vers.
#696

)

Relation 1607435: I1 main route. Superroute with the 4 stages as members.
Relation 16478126: I1 Alternatives. Variants and connections, 269 members.