Hey everyone,
There is currently a discussion in the German and French forums about how to tag shops accepting that their customers bring their own containers to buy products. We would like to open this discussion at international level.
Here are the links to the discussions on the German and French forums that I'll resume below:
Purpose of the tag
More and more people try to buy their products without packaging in order to reduce their amount of waste. It's not always easy to find shops selling bulk products (in the sense of buying the right quantity of a product which is not packaged yet) and shops accepting that we buy their products without packaging or using a re-usable package.
Mapping these shops is a way to help these people in their ecological engagement. For instance, in France with the Mieux trier à Nantes organization we've built this website to help people finding bulk products: https://cartovrac.fr. This map is based on OpenStreetMap for the data with a frequent update using Overpass API to filter shops with the bulk_purchase tag. A lot of maps exist in almost all countries but they are not necessarily based on open-data sources.
Today a tag exists to tag shop selling bulk products : bulk_purchase. But the name of this tag is not clear and this tag does not cover shops like bakery, pastry, butcher shop, fish shop … that accept to sell products in a reusable container.
In my opinion there are two kinds of services proposed by shops to distinguish here:
1) Shops selling bulk products
These shops sell bulk products. Meaning that the clients can choose the exact quantity of the products they want and they are often free to serve themselves. It's easy in that case to choose which container you will use as a customer. However, every shops don't accept to deduce the weight of the container so in that case the container has to be light weight (reusable paper or light-weight fabric) and some shops, even if it's pretty rare, will refuse that customers bring their own containers for "hygienic reasons" or other reasons.
This kind of shops is a nice solution for people who want to reduce their packaging but also for people who want to buy small quantities of products or the right quantity of product (the quantity necessary to bake a cake, no more no less, for example).
We often find this solution in small conveniences (some are even selling only bulk products) and in supermarkets, especially in supermarkets dedicated to organic products.
What helps to identify this kind of shops is the equipment used: a silo (often vertical, it's a huge box with a handle to ease customers to serve themselves). It could also be a bag or a box. This also exists for liquid products (washing liquid, vinegar, oils …). Here is an example with a candy silo:
Today, the name and description of this tag are not clear enough:
For some people "bulk purchase" means "buying large quantities of products for a lower price" but I don't think that's the goal of the bulk_purchase tag. A tag name like loose_goods or loose_items could be more adapted in my opinion.
Also, some people start to use it to tag bakeries, butcher' shops … I'm not sure that's adapted. Even if for these shops the products are directly put on the stand without packaging before buying it, the customer is not the one who takes/selects the products. It's often done by a seller. The approach is not the same and the customer is not free to have the product without packaging expect if he explicitly asks for it. I think we should complete the documentation in order to limit it to products in silos/box where the user is the one to take the product. Otherwise, all bakeries could have the tag.
2) Shops accepting that customers bring reusable containers
These shops are not necessarily shops who sell "bulk products". It could be any shop that accepts that people bring their own containers to buy a food product, soap, detergent … A shop that has bulk products, as described above, is not necessarily a shop who accept reusable containers. Some shops selling bulk products will only accept that their customers use the paper bags proposed by the shop.
Shops accepting reusable containers are often conveniences and supermarkets selling bulk products, greengrocers, bakeries, butcher's shops, fish shops, delis, chocolate shops, cake shops, but it could also be restaurants or fast foods which accept reusable containers for a takeaway service. In my opinion, this could also apply for vendor machines with packaging in option (milk vending machine, orange juice, bread and vegetables/fruits distributors …).
Most of the time, if the customer wants to buy the products without packaging he has to ask the seller for it and sometimes the shops deny the request. This could be demoralizing especially for shy people. It's rare that the seller proposes himself to not package the product or to use a reusable container. Some organizations like Zero Waste are trying to make the task easier for customers by proposing stickers to shops to put on the shop window. Below is an example of sticker from Zero Waste Lille in France. On these sticker we often see "bring your own containers" or "We like your jars" … It's easier for customers to ask the product in a reusable container when a sign says that the shop accepts that service. It also means that the seller will know why the customers ask for it.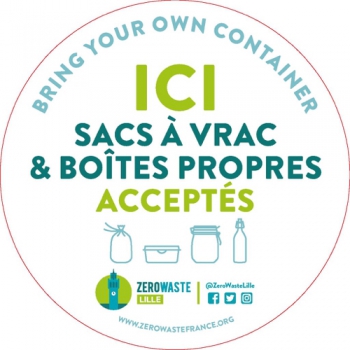 Also, some shops even propose some reusable packaging. They have a kind of deposit you pay once and reuse (sometimes the shop even cleans it for you: you give the old one when coming back to the shop and you get clean one for your new purchases), or even packaging customers give to the shop, the shop cleans it and proposes it back to all clients for free (often using glass jars that we find for jam, tomato sauce … that people usually use once and put to trash).
In my opinion, this kind of shops could be tagged in OpenStreetMap but in order to tag them, the service should be easy to identify physically on the shop: a sticker on the shop window, a sign hand-made by the shop saying "here you can bring your reusable containers" or a shop that explicitly says "Zero waste shop" meaning that the philosophy is not to sell packaging.
Some proposals of tag names have already been made in different topics:
customer_wrapping_solutions_accepted
bring_your_own_packaging
bring_your_own_containers
zero_waste_buy
zero_waste
bring_your_own_container
packagefree
bring_packaging
accept_reusable_containers
The values associated are: no (the shop does not display that it accepts reusable containers), yes (the shop accepts), only (the shop expects that customers bring their own packaging or use reusable one from the shop).
Currently, some people are starting to use the zero_waste tag. I agree with the wiki but I would add the sticker/display rule explained above to limit it to shops who physically display it. However I disagree with the name of the tag.
zero_waste is the reason why most of the customers will look for shops accepting reusable containers but it does not describe the service itself.
It's like tagging vegetarian restaurants with animal_protection. Even if many people looking for this option do it for the animal purpose, some just do it because they don't like meat/fish, and other do it for ecological purpose.
I think the tag should reflect the service itself and the most objectively possible. Personally I like the accept_reusable_containers idea someone proposed on the OSM - Help forum. It's explicit and describes what the shop does.
What do you think about:
renaming the bulk_purchase tag to something more explicit?
completing the bulk_purchase tag wiki to precise that it only concerns the shops selling bulk products where the customer can choose the quantity and serve himself?
renaming the zero_waste tag to something that describes more explicitly the service?
adding the rule about displaying the service in the shop to tag it with the "accept_reusable_containers" or whatever the tag name is?
This is a long post with a lot of thoughts and multiple questions but in my organization we think about it since more than two years and a lot of topics are discussing it. Also, I think these two tags will often be searched together by people even if they have different meanings. Some shops will be possible to tag with bulk_purchase but not with the "accept_reusable_containers" tag, some others it will be the reverse, and some shops will have both.