(traducción automática de Google Translate - version in english can be found below)
¡Hola!
He actualizado algunas regiones con admin_level=3 en Colombia, según
Wikipedia.
Estas regiones ya estaban presentes en Openstreetmap, con una lista incorrecta de
departamentos, así que los actualicé y agregué el límite boundary a estos
relaciones.
Estas relaciones se pueden ver en overpass turbo.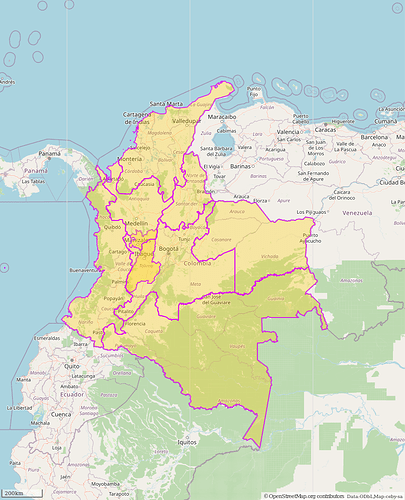 Tengo dos preguntas sobre estas regiones:
¿Se espera que Caldas pertenezca a dos regiones diferentes? (RAP Eje Cafetero y RAP del Agua y la Montaña)
Misma pregunta para Tolima, que está en RAP Central y RAP Eje Cafetero.
Wikipedia también parece implicar que estos dos departamentos están en dos RAP diferentes, pero esto parece extraño. ¿Puede confirmar que se espera?
Gracias,
Jocelyn
====
Hi!
I've updated some regions with admin_level=3 in Colombia, according to Wikipedia.
These regions were already present in Openstreetmap, with an incorrect list of
departements, so I've updated them, and added the boundary limit to these
relations.
These relations can be seen on overpass turbo.
I have two questions on these regions:
is it expected that Caldas belongs to two different regions? (RAP Eje Cafetero and RAP del Agua y la Montaña)
same question for Tolima, which is in RAP Central and RAP Eje Cafetero.
Wikipedia also seems to imply that these two departments are in two different RAP, but this looks strange. Can you confirm that it is expected?
Thanks,
Jocelyn