I'm mapping a junk yard and am a little confused about how to handle tagging the main office.
Here's what I've got right now: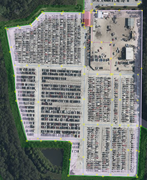 I've mapped the service roads inside the yard, the boundaries of the yard, and the main office building. I've got the service roads tagged with highway=service, access=customers, motor_vehicle=no (only employees are allowed to drive motor vehicles on them); the yard boundary tagged with landuse=industrial and industrial=scrap_yard; and the main office tagged with building=yes. The top right corner of the yard is restricted to employees only, so I've set access=private for the service road that passes through that corner.
My first thought is to put the rest of the business tags (e.g. phone, address, opening hours) on the main office, since that's where customers need to go before proceeding into the yard. But there's no tag that I know of to describe the shop/amenity/service provided by the office; according to the OSM wiki, industrial=scrap_yard requires landuse=industrial (which doesn't belong on a building). There's also shop=junk_yard, but it seems to be very rare and discouraged. If I go without one of those tags then data consumers have to process whether or not the building is inside a landuse to decide what kind of business it is, otherwise it'll just show up as a building with a name.
What should I do here?